Steps for growing strawberries (Fertilize the strawberries in field cultivation)
Growing strawberries in field farming. Field-grown strawberries have been preparing for winter in late November last year and have been overwintering since then. For strawberries, the period in January is the time for additional-fertilizing. The strawberry plants themselves are dormant, but they still require fertilization, so we provide additional-fertilizing to supply nutrients.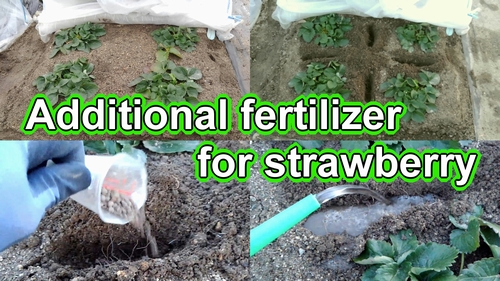 During the winter dormancy of the strawberries, we perform cultivation management tasks such as removing withered leaves and pinching off buds, but we are not fertilizing. This is the first time for additional-fertilizing.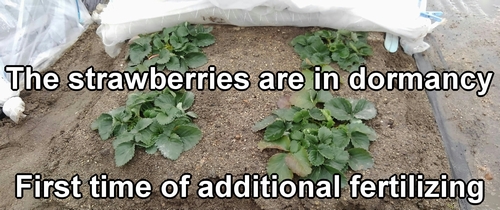 During winter, additional-fertilizing for strawberries takes time to take effect, so it is done early. If you apply additional-fertilizing to strawberries in January, the fertilizer will start to take effect by the end of winter.
Please see the following link for the appearance at the time of planting strawberries. When planting strawberry seedlings, they are planted at a shallow depth. Pay attention to the direction of the strawberry runners as well.
Please refer to the following link for information about overwintering strawberries. Strawberries are dormant in winter and start growing vigorously as the soil warms in spring.
The method of additional-fertilizing for field-grown strawberries (How to fertilize Houkou-wase strawberries)
For field-grown strawberries, additional-fertilizing is done between the plants. Since there are 4 strawberry plants, there are also 4 spots for additional-fertilizing.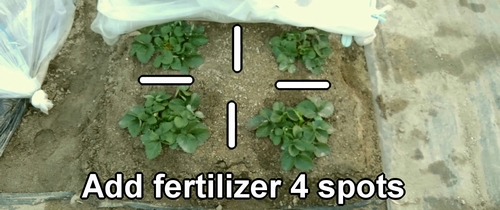 We use fully matured chicken manure as the fertilizer. The amount of fertilizer is 10cc (about 1/3oz) of chicken manure per location. The method of additional-fertilizing involves first digging a little between the strawberry plants to create a trench. Afterward, you put chicken manure into that trench. The depth of the trench is slightly less than 10cm (3.9 inches), around 7 to 8cm (2.7 to 3.1 inches) should be sufficient.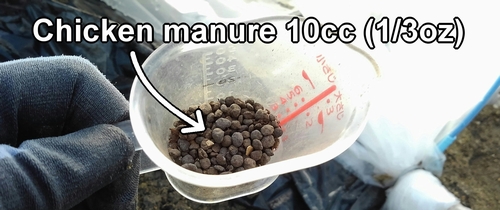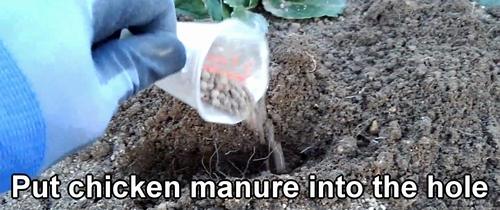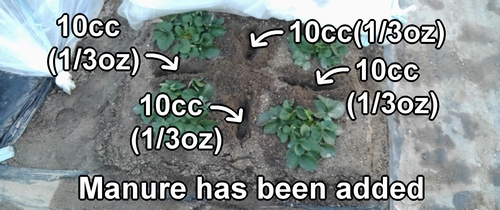 After additional-fertilizing, water the chicken manure and cover it with soil. With this, the additional-fertilizing work for strawberries is complete.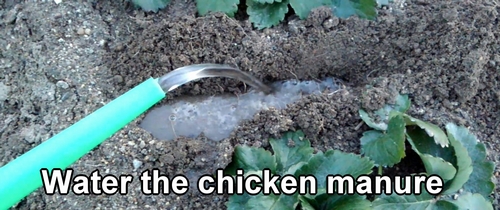 Following is the video for how-to. English subtitles are available.
---