Japanese sweet pepper plant care (Pruning and remove the suckers):Tips for growing peppers
Growing green peppers in pesticide-free cultivation. This time, I will deal with sweet pepper plant care. I will perform pruning and sucker removal for the sweet green peppers.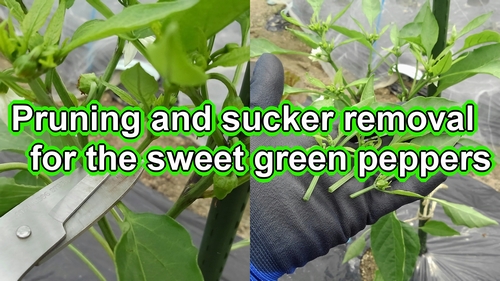 About a week has passed since fertilizing pepper plants. Since the branches have started to grow, it's time for pruning.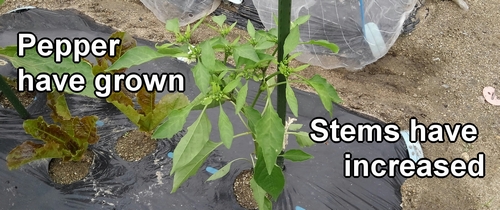 I applied additional fertilizer to the sweet green peppers in early June.
Members of the bell pepper family, including sweet green peppers, typically develop two stems from a single stem, and the stems continue to double in number. Therefore, if left unattended during cultivation, the stems and leaves will become crowded.

Pepper pruning is done to create space around the center of the pepper plant. (Cutting branches that grow towards the center.) Clearing the central part of the pepper plant improves airflow and facilitates moisture reduction.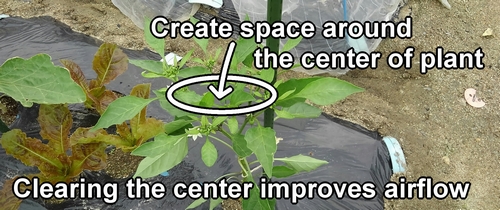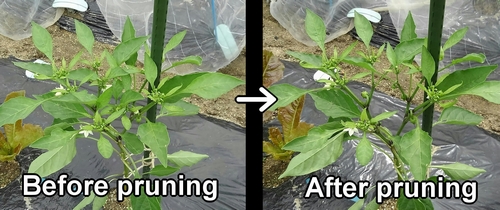 This concludes the pruning for the current sweet green peppers, but as branches will grow again after a while, let's make it a practice to prune sweet green peppers regularly. Ensuring good airflow for sweet green peppers not only reduces the likelihood of diseases but also prolongs the lifespan of the pepper plants, allowing you to enjoy a longer harvesting period.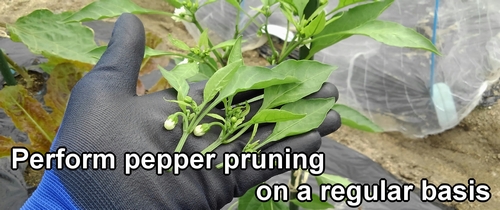 Also, let's do some sucker pruning for the sweet green peppers. The location for sucker pruning is below the very first branching point. It's below where the first flower was attached. All the suckers emerging here should be removed. If there are suckers below this point, nutrients are drawn towards the suckers, causing the pepper plant itself to grow slowly. The method of removing suckers is simple. Just pinch them with your fingers and snap them off.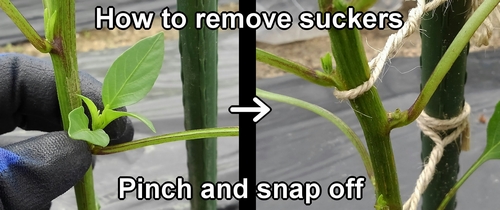 Following is the video for how-to. English subtitles are available.
---